This has always been my favourite area of work – even more than interior design – because it gives me the best opportunity to follow my ecological design principles. The ultimate aim is to show that construction can be economical and nature-friendly at the same time.
Featured Projects
---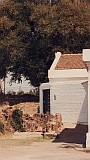 Built as a training centre for handloom weavers in the historical fort of Maheshwar – old capital of the Holkar kingdom. Here, only locally available material and labour was used which brought the cost of construction to a very economical Rs.105 per square foot (Rs.10/m2). Temporarily, the premises was also used as a school which it did successfully, thanks to the flexibility of the layout.
Continue Reading →
---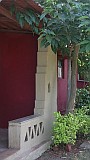 Set on a 50 acre parcel of land about two hours from Bombay, this is a health resort with a difference. It was built at a relatively low cost (for a resort, that is) using ecologically friendly materials like rubber wood. When the clients first bought the property, it had but a single mango tree. In less than 7 years, the place became a green oasis in the surrounding countryside with thousands of trees and only a small portion set aside for the actual cottages. Of course it helped that the land was right next to the perennial Pej river.
Continue Reading →
---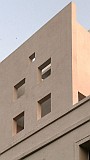 Thane-Belapur road once had a large number of industrial estates and factories that belched out huge quantities of toxic fumes. Today, the area is quite different with knowledge parks and swanky new stations leading to many people converting their plots into prime office space. The clients for this project – ISO 9001 certified chemical manufacturers – wanted to build their laboratories and offices to replace a disused plant.
Continue Reading →
---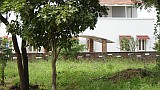 The design of a private residence at Pune was an exciting current project. As always, for a structure of this size, I refuse to use an Reinforced Concrete Cement (RCC) framework and opted for load-bearing walls that were cheaper and, in my opinion, more aesthetic.
The exciting part was that, not only did we systems for waste-water recycling, rain harvesting and solar hot water but also, that the mortar used was mostly lime, not cement.
Continue Reading →
---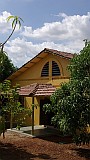 Set on the edge of a hill that slopes down to a river, this home – for a couple, who live there full-time, has a huge verandah with a fantastic view of not just the river but the Garbat plateau and Matheran as well.
The design brief was straightforward – a home that was ecologically sound and gave the best possible view of the river and surrounding mountains. Energy usage has been minimised (the area is chronically short of electricity) and inexpensive photovoltaic panels provide emergency lighting. Solar hot water is available on tap and rain-water is harvested for drinking purposes — even though the river is visually clean, it contains urea from the agricultural land upstream and so cannot be used for drinking purposes.
Continue Reading →
---