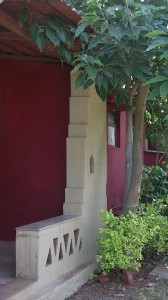 Architecture gives me the best opportunity to practice my ecological design principles. The aim is to show that construction can be economical and nature-friendly at the same time.
Here are some completed projects including a resort, a couple of bungalows and an office building.
Continue Reading →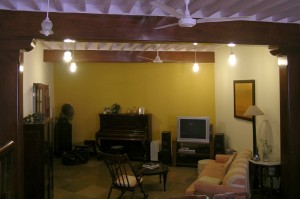 An important part of the portfolio, interior design is where most of the work has been carried out. Dozens of commercial and residential projects have been completed in and around Bombay since the first office designed in 1993.
Here, because ecological considerations are often diametrically opposite to economics, I've had less success in convincing clients to use sustainable materials. That has not stymied my effort to bridge this gap however.
Continue Reading →
Some Current Projects:
---
[PSah] Factory @ Jagatpur, Cuttack, Orissa
[Construction Stage]
This plant for packaging material is to be made as nature-friendly as possible. Natural ventilation will be used to the maximum extent (given the necessity of a totally dust-free environment) and the landscaping is being designed to reduce ambient temperature within the premises.
To make use of natural light, an earlier sketch design had curved profile roofs with clerestory windows. However, that had to be scrapped in view of the frequent cyclones in the area. Instead, we've turned the clerestory sideways so that most of the light comes in from the North and East sides and reflects off the insides of the curved baffles seen in the image. All the other windows have deep overhangs to reduce direct light – and therefore minimise heat build-up.
---
[LGEs] Bungalow @ Nasrapur, Karjat
[Tendering Stage]
Another weekend home that's within shouting distance of the [RaBV] bungalow, this one is going to use a fair amount of local black basalt for the walls. Most of the 1 acre plot gets flooded at least twice every monsoon so we've chosen to build on the only part that's beyond the water's reach.
---
[MChi] Apartment@ Wadala, Mumbai
[In Progress]
This is a high-end apartment in a high-end building. Unfortunately, while the clients paid high-end money to buy the place, the builder provided really shoddy interior work. As a result there is a colossal waste of time, money and material as we have to redo everything from scratch. It would have been much better if we had been given the premises in a raw state.
---
[ShKo] Bungalow @ Nasrapur, Karjat
[Conceptual stage]
Situated at a bend in the Paej rivere, it is my fourth project in the same development.  At this point, the design is still nebulous but it promises to get very interesting — together with the clients, we're thinking of a string of small structures (many of them open) arrayed around a central courtyard which will have a water body.
---