Selected Projects
---
[CaBa] Playschool
When the founder of this popular playschool moved to Bombay, she found the school semester had already begun and she couldn't get her daughter a place anywhere. So she started her one in her own home.
Over the years it has grown organically but quite haphazard; it's now undergoing a planned overhaul. Work is carried out during the summer and winter vacations..
---
[HRMa] Residence at Malabar Hill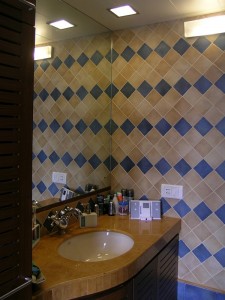 When we first started working on this residence, we were only asked to do up the bathrooms. We discovered as we went along, that major structural repairs were required because the old wooden posts had completely rotted away over the years due to seepage of water. As a result a much larger portion of the house was renovated resulting in delays and cost escalation – a classical example of the productivity triangle/tetrahedron at work.
---
[JaCo] Office in a Heritage Building at Horniman Circle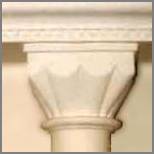 Decades of neglect had made a shambles of this wonderful building from the 1880s. When a survey was conducted, it was found that, the area to be renovated was a long-enclosed verandah. In fact, every single tenant of this heritage building had converted their deep verandahs into cabins.
Initially, the clients were unwilling to do anything that altered the ghastly state of the façade but after a presentation, they were convinced that it would be worth the effort. Unfortunately, the original cast iron railings had disappeared during a previous renovation so any hopes I might have entertained of restoring the building envelope to its former glory were
---
[Trin] Office for a 3-Man Ad-Film Agency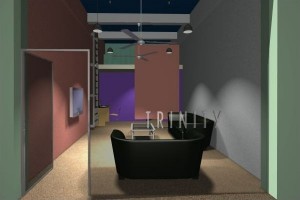 A dynamic young trio wanted to go it along in the ad-film industry so their impact had to be much bigger than their budget.
The space was originally designed for a shop and there was a loft towards the rear which got utilised for storage. For lighting, we chose industrial-looking shades that were painted purple and the flooring was simply ochre cement cast in-situ. The most expensive things in the whole place are probably the laptops on which they make presentations.
---
[JaGV] Residence in the Western Suburbs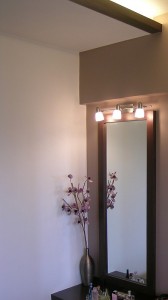 I'd earlier designed the entire apartment many years ago but the children had now grown up so both of them – one a young lady and the other a young man – wanted a complete remodel of their living spaces.
For the former, it was all about a feminine room but without the typical pinks associated with little girls whereas for the latter, it was about dark colours and rock music!
---