Based in Bombay (Mumbai) bT Square Peg has been creating sustainable designs in architecture & interiors since 1993.  The primary intention is to seamlessly blend practicality & timeless aesthetics with sustainability — the resources on this planet are not limitless.
design principle:
to seamlessly blend practicality, aesthetics & sustainability
Many designers care more about how the job will look in a magazine article—preferably the cover feature—than it does in reality. This often leads to homes and offices that look very dramatic in photographs but don't necessarily work in practice. Equally, there are clients who fall into the trap of wanting to showcase the latest rage. Both approaches are wrong in my opinion.
The principle here is to keep in touch with current trends and materials without becoming a slave to transient fashions. Ultimately the objective is to create spaces that are—both physically and aesthetically—appealing to the inhabitants.
Featured Projects
---
Nasrapur, Karjat [2012-2015]
With rooms arranged around an open court that has a swimming tank, this bungalow is the weekday home of a couple who come into the city mostly on weekends.
Instead of a typical compact layout, this house was designed as a series of spaces with clear public and private zones. When seen from a nearby hill, it looks like a cluster of three houses rather than just a single one.
---
Vanjarwadi, Karjat [1999-2001]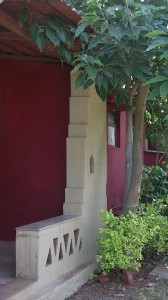 Nestled in a valley between the Matheran and Bhimashankar ranges, on a 50 acre (20 Hectares) piece of land, this is a resort with a difference. It was designed to have the look and feel of a typical Indian village.
The layout reflects the variable contours, with groups of ground-hugging cottages following the gradients. Some units are arranged in a cluster around a central courtyard, while others have individual aangans from which one enters them. Including the unpaved, covered, otlas behind them, each room has almost as much outdoor space as it does within.
---
Maheshwar, MP [1994-1996]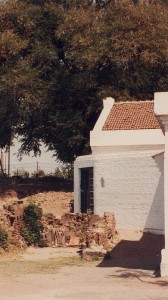 Built in the historical fort of Maheshwar — old capital of the Holkar kingdom is this training centre for handloom weavers. It was built using only locally available materials and labour, which brought the cost of construction down to a surprising Rs. 1,125/m² (about Rs. 105/square foot). Today that figure sounds almost unreal but, even at that time, it had worked out to approximately one-third of what a similar, concurrent project in the same town had cost.
The walls were made entirely of load-bearing brick with no reinforced concrete whatsoever, and the mortar used was a mixture of lime and cement.
---